This year I became a member of The Old Schoolhouse Homeschool Review Crew. This is very exciting for me. I was a subscriber to their magazine (before it went digital) and also subscribed to their SchoolhouseTeachers.com website. We look forward to being able to review different homeschool products throughout the year and being able to share the reviews with you. 
I am a homeschooling mom of three teenage boys. The oldest is 15 (almost 16) and then twins who are 14. They are technically in 10th & 9th grades, but of course, as many homeschoolers know, this is just a number. Many subjects we tackle at the same time but keep other subjects to grade level. We have homeschooled from the beginning, so we have plenty of experience with different curricula over the years. They have plenty of things they have lived and probably much more they have not liked. I try to use their feedback as well in the reviews. Our first review is for a Yearly Membership to SchoolhouseTeachers.com.

SchoolhouseTeachers.com
SchoolhouseTeachers.com is an online, subscription-based curriculum. But it's not just your ordinary "boxed" curriculum. SchoolhouseTeachers.com offers a wide assortment of classes, from Kindergarten all the way through High School. The annual subscription gives you access to all of their curriculum. They normally have two different levels of membership, K-8 (normally $14.95/mo) and K-12 (normally $19.95/mo). Now until January 31, 2018, they are offering a sweet deal for new members: $90 for a yearly membership (or $9.95/mo) with their special coupon codes (see below).
*Note: This post contains affiliate links.
A few pros and cons before we look at a some of their great offerings.
Pros:
360+ classes

Self-paced

Online videos

Planners

High School level
Cons:
Not accredited (if that's an issue in your state)

Not aligned with Common Core (is that really a con?)

Online (if the power goes out you don't have access)

Not scheduled out by day/week for all subjects
Now to what is included in your membership.
Classes
SchoolhouseTeachers.com offers more than 360 classes (and counting). It is amazing the amount of material that is available and what they continue to add. You will find classes in the traditional subjects: Math, Language Arts, Science, Social Studies, etc. But you will also find electives: Photography, Art, Drama, Computer & Technology, and more.
Foundations for Teens
This is a video-based high school class. There are 37 different videos, teaching about God, Christianity, and answering the hard questions teens face these days. Just a few of the video titles: Why Jesus?, Apologetics, Doctrine, and Jesus: Man, Messiah, or More? Many of these videos actually have multiple parts. Most of the titles also come with questions and answers. You can easily make this a ½ credit high school class by adding independent reading, research, or other material.
We are more than halfway through this course. I have learned a lot of things that I was never taught growing up. Some of the opening skits are a little corny, but it makes you look differently at certain topics.
*Note: There is a lot of adult themes (mainly teens talking about having sex and then regretting it later). This is a topic that should be discussed as a family, but it could be uncomfortable to some.
After we finish this class, we are already scheduled to start another high school class, Going Deeper: The Books of the Bible.
Filmmaking
This is one of the newer classes added to SchoolhouseTeachers.com. We still haven't had time to review too much of it, but it looks like it is going to be a very in-depth class. My three teenage boys have just started their own YouTube channel, and are starting to make different little videos. I am going to have them start taking this class to learn a little bit more about filmmaking in general.
Image Editing and Creation Lessons
Since I haven't been blogging for long, this class looks interesting to me. I haven't wanted to pay for Photoshop or one of the other photo editing programs. This class gives instructions on using a free program, GIMP.
I actually downloaded this program about a month ago, opened it, and promptly closed it since I had no clue what to do. Although I haven't started the class, I have downloaded the lessons so I can get started. The one negative I have with this class: it does not have videos (except for two introduction videos).
Video Library
There are hundreds of streaming videos available. Many of the videos are included in the individual lessons. But there is also a page that includes all the videos separated by subject. Some of the providers include: Creation.com, Drive Thru History, RightNow Media, Day of Discovery, and many more.
We have been enjoying watching the Drive Thru History: Ancient History – Greece series. It helps to be able to see where some historical events have taken place. Not quite as good as going to the place in person, but it definitely helps visually.
My boys are too old, but there are also many cartoons including "Adventures of Donkey Ollie" and "Bedbug Bible Gang."
World Book
Your subscription to SchoolhouseTeachers.com comes with a membership to World Book. There are ten different libraries you have access to Early World of Learning, Kids, Student, Advanced, Timelines, eBooks, Discover, Science Power, Social Studies Power, and Enciclopedia Estudiantil Hallazgos.
I had the boys take a test drive to see what they thought.  It took a little getting used to. One of the first things they thought was that it took too many steps to get to it. And once they were in one of the different libraries, they couldn't get back to the main screen. Right clicking and opening in a new tab can solve this problem.
Since they are into sports, the boys mainly looked up baseball and Nascar. They thought you could find more information on Wikipedia than World Book. They spent most of their time in the "Student" library, but they also checked out the Timelines. The timelines they thought were "cool" but were missing some items. For example, the 2015 Sprint Cup Champion was missing from the timeline. They said that there is an option to add to a timeline, but we aren't sure if that will actually change it on the website, or if it is just for the local user.
I then headed over to check it out as well. I can understand what they thought about the difference with Wikipedia, but they have never really been exposed to a set of encyclopedias, so they are a little biased. They are used to having instant information. The "Discover" Library seemed to be the best library to use if you just wanted to look up a specific item (like you would in an encyclopedia). From there it gave a definition and description, as well as giving links to other relevant topics and sometimes noting to go to the "Student" section for more information.
World Book did seem a little hard to navigate. SchoolhouseTeachers.com gives good directions on how to get to the site, but the site is not always user-friendly. I would suggest right clicking and opening in a new tab for everything. Otherwise, you might not be able to find your way back again.
I did like the number of eBooks that they offered. There were many World Classics, including over 200 Children & Young Adult books (like A Little Princess and Aesop's Fables), over 1,000 Fiction & Literature books (by authors like Ray Bradbury, Shakespeare, Charles Dickens, and Sir Arthur Conan Doyle), and over 600 Nonfiction books (like A Short History of the World by H. G. Wells, Apology by Plato, and The Autobiography of Benjamin Franklin).
The World Book site says that you can read the books offline. I wasn't able to see if this worked. And the few books I opened had small font. There is a zoom feature, but that will make it a little difficult to read. Not quite as easy as using a Kindle or other eReader where you can change the font size.
Focused Learning Centers
Since all three of my boys are in high school, I also looked at the Focus on High School and College Learning Center. The Focused Learning Centers are a newer addition to SchoolhouseTeachers.com. There is so much information with just one click of the mouse.  The page includes:
ebooks

List of courses weighted for transcripts

Career center

High school and college prep printouts

High school planner
Each of these links to other pages with loads of information. I found the "Academic Weighting for Transcripts" very helpful. It lists all of the classes that SchoolhouseTeachers.com offers that can qualify for high school credit. Each class gives suggestions for weighting that class. Some might be a ½ credit or a full credit course. (Make sure you know the laws of your particular state.)
The printouts will be helpful for planning out the last two years of high school. You can find a blank transcript, a study plan, an individual high school plan, as well as a College Planning and Prep worksheet. This worksheet gives examples of what tasks should be performed in what year of high school. For example, "Begin thinking about potential colleges and programs of interest" is listed in 9th grade, "Prepare to take the PSAT and/or the pre-ACT PLAN test" in 10th, "Register for and take SAT/ACT" in 11th, and "Finish up your college applications" in 12th.
Cost
As mentioned earlier, the K-8 membership normally costs $14.95/mo, and the K-12 normally costs $19.95/mo. Now until January 31, 2018, SchoolhouseTeachers.com is offering a sweet deal for new members: $90 for a yearly membership (or $9.95/mo) with their special coupon codes:
NEWYEAR18 – for the $90/year membership
MONTHNEWYEAR18 – for the $9.95/mo membership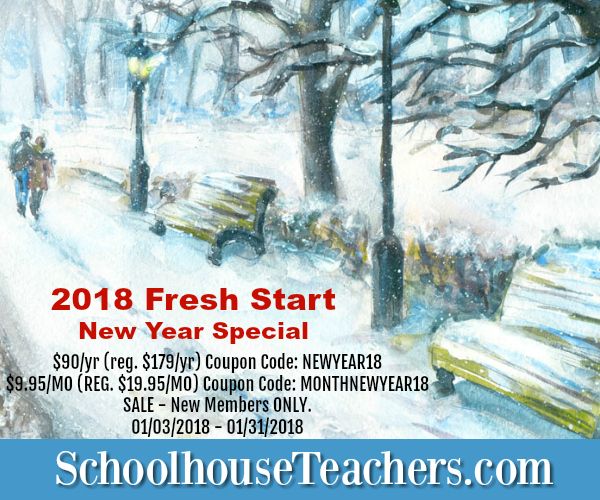 Overall Takeaway
The membership to SchoolhouseTeachers.com is worth the cost. There is so much value included. And it is just one price for the entire family, not per child.
We use it daily and have for several years. I have a dedicated folder on my laptop for all of the PDFs I've downloaded for different classes. And the selection keeps growing. There are so many more options than when I originally signed up. I plan to continue using this for the rest of my boys' high school years.
Need more opinions? Check out reviews from other Crew Members.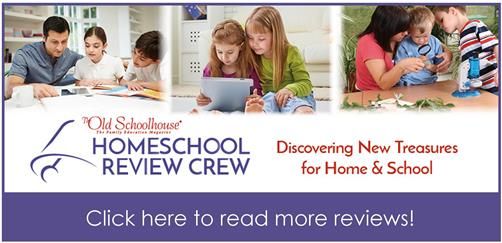 Best of luck in your homeschooling journey,
Kim.